Guess what? Remember
my last post
? Of course you do. This armoire is memorable.
I got her…she's mine!!! (I'm doing the Snoopy happy dance) Thanks to all of you who held your breath and crossed your fingers for me. Now for the logistics of delivery and having her fitted with shelves. It'll still be a couple months or more before you see the final reveal of my master bedroom.
On a VERY HAPPY note, my husband and I are going to Paris next month. Yep…finally. Here is the Paris Apartment that we will be staying in: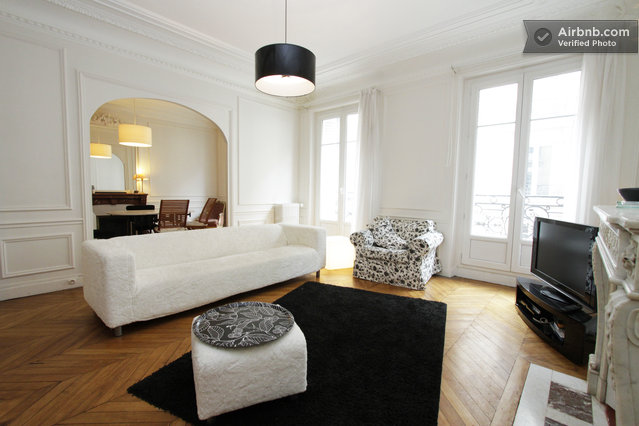 Love the original parquet floors with the updated modern look.
This has proven to be a very Frenchy week for me..an armoire, a Paris trip…what more could a girl want?
And now, for the real post for today! lol
If you are following along, you know I'm finally going to re-paint my rooms
(post here).
If you recall the two philosophies I'm subscribing to about paint, then you know one of them is that I like greige.
(via Elle Décor)
I did a little research about greige.
It is pronounced grā-zh.
It's definition as it applies to textiles is: unbleached and undyed as in greige linen.
The color greige is a combination of gray and beige and is closely akin to taupe. It's a color that will allow grays and tans to live together in the same room.
And, after looking at paint colors until I can't stand it anymore, I have finally made up my mind.
Ta-dah! The choices:
SW 6071 Popular Gray
SW 6078 Realist Beige
And, two others that aren't actually a greige but are great fresh light neutrals none the less:
SW 6156 Rice Grain
SW 6148 Wool Skein
I would categorize the last two as more in the khaki range with Rice Grain having an ever so slight hardly noticeable minty green tint.
Here are the four chip cards together. Subtle, but definitely different.
For darker walls or accent I'll use:
SW 6072 Versatile Gray
SW 6073 Perfect Greige
SW 6079 Diverse Beige
I think these will be perfect neutrals lending an effortless backdrop to all colors. Please stay tuned as I continue my house re-freshing quest.
I came across this photo on the internet (I wish I had the source) and I'm loving the the bright yellow combo with the greige. Hummm…..master bedroom? We'll see.
I'm moving my daughter into college this weekend for sorority/rush. I'll be back next week!
Au Revoir,
Kim
Linking up to: